Have you ever been asked to provide a CCTV solution for an application that has difficult or impossible implications around the civil costs of getting power and data cables installed?
Thanks to Hikvision's Standalone 4G Solar Kit there is now no need for civil engineers to install utilities or cables.
This all in one unit (note the battery is purchased separately), has all the bracketry and equipment that is required to run a CCTV system anywhere, as long as it has access to sunlight.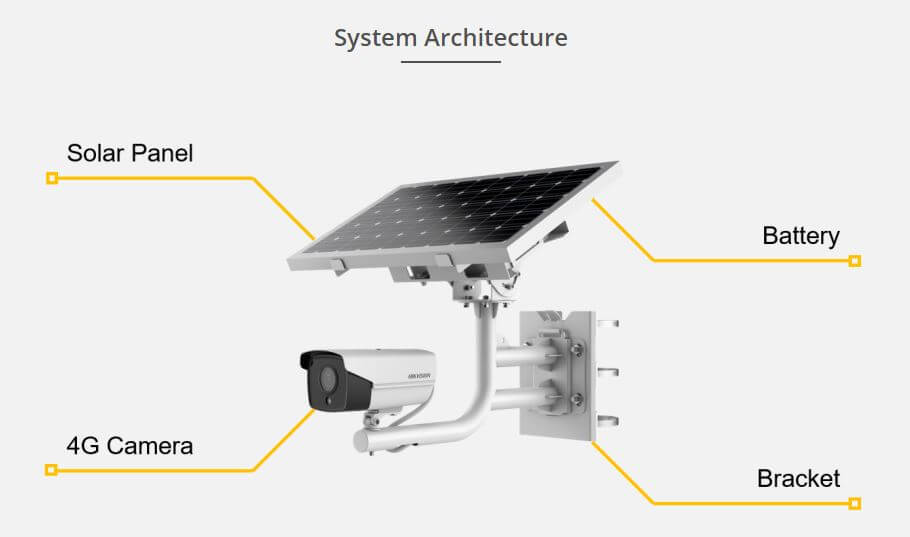 Even where installations have little or no sun with a little extra work, as the camera connects with a 485 connector, you can extend the link between the mounting unit and the camera.  i.e. on a carpark the solar panel could be located on the side of the building and the camera positioned inside to cover the area of interest.
The camera has a low power chip set and the system allows for power save functions to be deployed to get the most out of every second of day light. A nice touch with the unpredictable UK weather.
When in full power mode the camera has 7 smart event functions including; line cross detection; intrusion detection; region entrance detection; region exiting detection; unattended baggage detection; object removal detection and scene change detection.
The camera can be used with Hik-Connect or Hik-Central (V1.7.0) but only one at a time and there is no special license needed if deploying into a Hik-Central system.  
The battery has a black box integrated in to it, allowing for remote dial in for system logs.
All in all, a very useful solution for installers and integrators where power and cabling cannot be installed.
Features include:
40W Solar Panel
2MP 30fps camera
30m IR
4G connectivity
Built in 25GB memory - expandable to 256GB with memory card
IP67
Level 12 wind resistance
Download the Hikvision Infographic for further details.
How else we can support you:
Please click on each icon or title for further information.
Hikvision has a broad range of products to meet customer needs for different levels of security and cater for projects of all sizes. 
Mayflex has developed its business to become a leading distributor of converged IP solutions. Our product range includes IP security, cabling infrastructure and Ethernet switching products.
Hikvision's NVR's and DVR's integrate with a host of complementary security brands.
The Mayflex Academy provides customers with access to certified vendor training courses in a professional training environment.
Hikvision have an extensive suite of videos that provide a step-by-step guide to installing products in their range.
Our in-house team of experts can load IP addresses, software, set parameters, naming and logins etc. They can also pre-build NVR's. We have numerous different models of NVR available with many different storage options for each, ranging from 1TB right up to 32TB and more.
A bespoke service which takes a camera and its associated fittings and spray it to an exact colour requirement. Offering clients, a discreet solution which blends in with its surrounding environment.
The Mayflex team of security sales experts, are available to offer support on product choice and system design. Suggesting the products best suited to a project's requirements.
Our dedicated pre-sales resource and technical team, are based out of our Birmingham HQ and are available 5 days a week between 8am and 6pm.
Find the Hikvision products that you want easier and faster with mayflex.com. Order online up to 8pm for next day free delivery. You can also pay for your online purchases using a visa, maestro or master card.