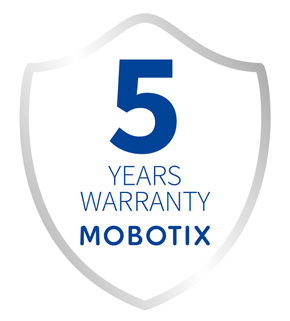 More cost Efficiency: 5-Year Warranty for all MOBOTIX Cameras 
Since the founding of MOBOTIX, their products have stood for durability, quality and support far beyond the industry standard. MOBOTIX IP cameras from the first product lines are still in use today and perform reliably. They have therefore decided to award all MOBOTIX cameras with a corresponding seal of quality.
The 5-year warranty applies to deliveries ex MOBOTIX warehouse from 1 August 2022. For products already delivered, the warranty granted at the time of delivery (2 years) continues to apply.
The following wear parts and defective conditions are excluded from the 5-year warranty:
• Motorizedorzoom lens, pan-and tiltmotors, fan, timing belt pulleys, belt, slip ring, ATX power, adaptor, bubble of PTZ cover, hard drive, SD-cards.
• The warrantydoesnot coverfailurewhichresultsfromalteration, accident, misuse, neglect, voltage fluctuations, lightning, water damage (or force majeure).
• The warrantydoesnot covermalfunctionwhichresultsfromexternal equipmentoraccessory. (e.g. damaged power cable).
• The warrantydoesnot coverfailurewhichresultsfrominterfacingwithnon-standard orcustom equipment.
• The warrantydoesnot applyfaultyinstallation oradjustmentofcontrols, or impropermaintenance. The warranty doesnot apply to the appearance of the product or loss of accessory items.
To find out more about the MOBOTIX products available from Mayflex please click here.
To discuss your MOBOTIX requirements or for more information please contact our security sales team on 0121 326 2228 or email securitysales@mayflex.com