We have updated our login system so all users will need to set a new password. Please check your emails for a reset link. If you haven't received one, you can request it on the login page.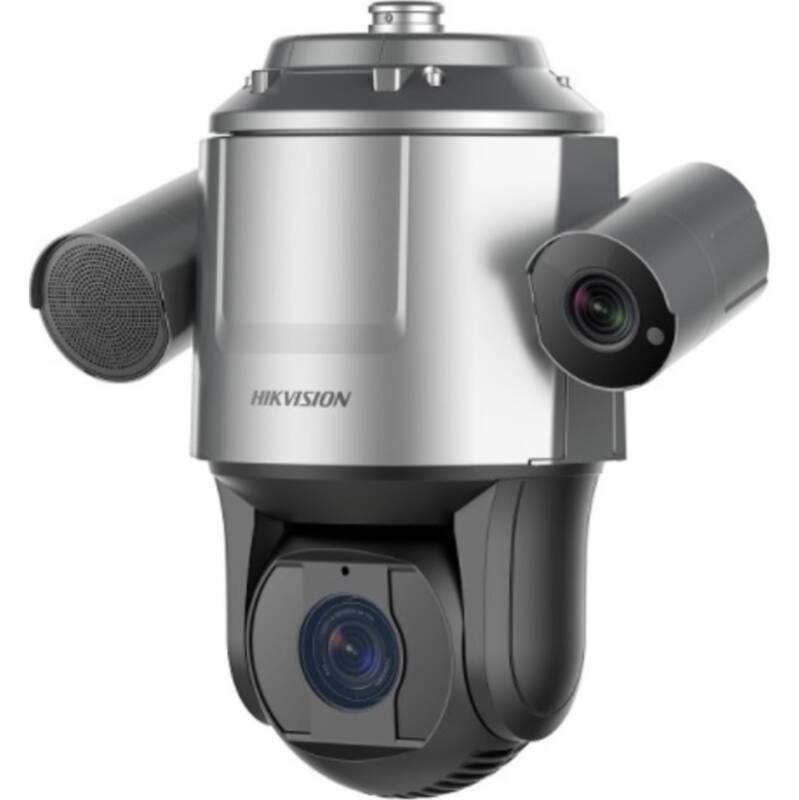 Hikvision 8" 4 Megapixel 40X DarkFighter IR Network Speed Dome Pano 2.8-12mm PTZ 6-240mm
Part Code: IDS-2SK8144IXS-D/J(40X/2812)(T2)
The smart-linkage PTZ camera adopts an all-in-one design with two camera channels, a speaker, and two high-performance GPUs. Integrated with multiple deep learning algorithms for complicated scenes, it provides accurate collection of target feature data, comprehensive data analysis of multiple scenes, and all-around situational perception. The smart-linkage PTZ camera can be widely used for large areas that need high-definition monitoring and smart capture, such as intersections, T-junctions, squares, borderlines, and parks.
Person arming: supports real-time modeling and comparison, arms and tracks predefined persons, and uploads the longitude and latitude information of the target during tracking
Vehicle arming: supports vehicle detection and license plate recognition, arms and tracks predefined vehicles, and uploads the longitude and latitude information of the target during tracking
Smart event: The panoramic channel arms the predefined area. When it detects a target, the PTZ channel is linked to track the target and trigger alarm
Tracking capture: Tracking can be linked to white light and warning from speaker. The features of the target can be abstracted and uploaded
Tracking takeover: When the target gets out of the panoramic channel view, the PTZ channel goes on to track the target in a larger area
Multi-target-type detection: supports human face and body detection and captured picture uploading on both camera channels
Road traffic: supports vehicle detection, license plate recognition, and captured picture uploading on both camera channels
Supports EIS, with built-in gyroscope to improve the performance
View More
| | |
| --- | --- |
| Model | Pan-Tilt-Zoom |
| Area of application | Outdoor |
| Transmission | TCP/IP |
| Power over Ethernet | None |
| Focal range | 6...240 mm |
| Colour | Silver |
| Wireless | no |
| Number of pixels (Megapixel) | 4 |
| With lens | yes |
| With IR lamp | yes |
| Max. infrared reach | 500 m |
| Number of digital inputs | 7 |
| Number of digital outputs | 2 |
| Number of audio inputs | 1 |
| Number of audio outputs | 1 |
| Vandal-resistant | no |
| IK Rating | None |
| Built-in Analytics | yes |
| Power consumption | 90 W |
| ONVIF-compliant | yes |
Key Features
Model: Pan-Tilt-Zoom
Area of application: Outdoor
Transmission: TCP/IP
Power over Ethernet: None
Focal range: 6...240 mm
Colour: Silver