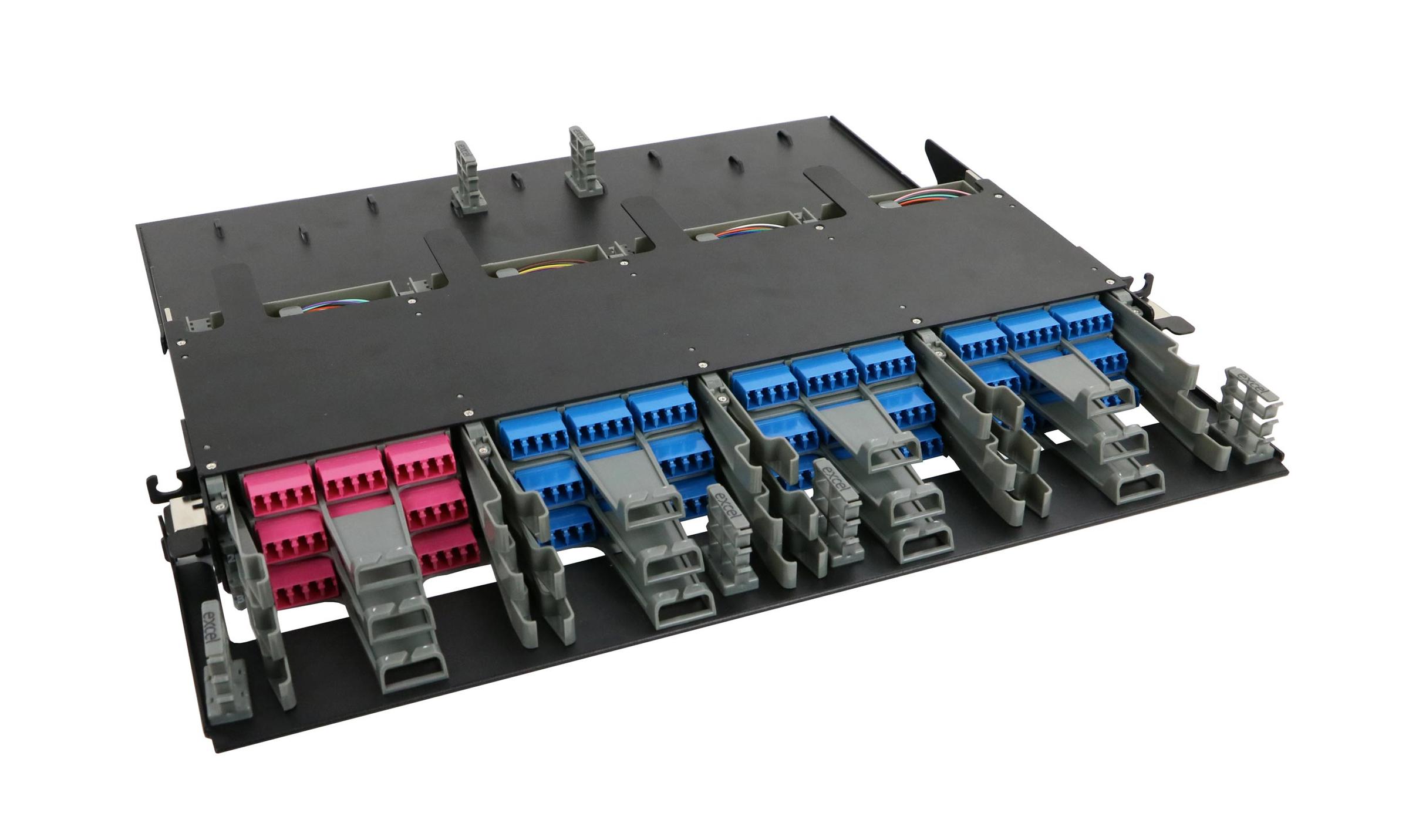 Excel Networking Solutions, the copper and optical cabling infrastructure provider, has significantly enhanced its fibre offering with the addition of new high density products and has also introduced the brand name 'Enbeam' to denote the complete fibre solution.
The latest additions to the range include the new Enbeam Fibre Panel – 1U 19" 12-cassette high density panel that provides an expandable and innovative cassette based patching solution. The panel offers a capacity of 12 cassettes, each containing 12 fibres offering up to 144 fibres per 1U, with either LC or MTP presentation. A variety of cassettes are offered providing a highly flexible system and all cassettes can be mixed and matched as required and include the LC-MTP HD 6-Port Cassette, the LC HD 6-Port Cassette and the MTP HD 4-Port through-coupler.
The Enbeam 1U 144 Fibre LC Angled Panel provides high-density LC patching offering 72 ports / 144 fibres in 1U. The angled design negates the need for additional patch cord management, further increasing the potential density of this system. Designed as a pass-through patching panel it features a large rear cable manager for location of the rear cables/patch leads.
Finally, the Enbeam LC Uniboot Patch Cords provide excellent performance in a compact design, using 2mm round cable containing 2 x 600 micron diameter fibres, which are ideal in high density applications. These patch cords are available in two versions – standard uniboot and a pull-tab version. Both versions allow for easy polarity changing.
Richard Cann, Technical Services Manager commented 'We've been working over the last 12 months to design and produce a range of products that will really help to evolve our fibre offering.   With the addition of our 'Enbeam' branding we can bring these together in one family, which will continue to evolve as we expand our offering and stock holding.'
Richard continued' As well as the new products we have also updated our standard sliding drawer panels with added features such as ball-bearing runners for smooth operation and rigidity, finger pulls are included on the front panel and the use of recessed, flangeless, adaptors create increased space for port and panel labelling and makes the panel facia more aesthetically pleasing.   There is also an optional patch cord management bar with a hinged front plate for ease of access and the range has been increased considerably.  All of which have been introduced with no additional cost to our customers.'
Richard concluded 'The Enbeam products are being included in the new Excel A5 Catalogue that will be available from mid April 2017 and a separate Enbeam catalogue will be produced in the near future with an even greater range.'
To view the Enbeam range visit www.excel-networking.com and to order a copy of the new Excel A5 catalogue contact admin@excel-networking.com