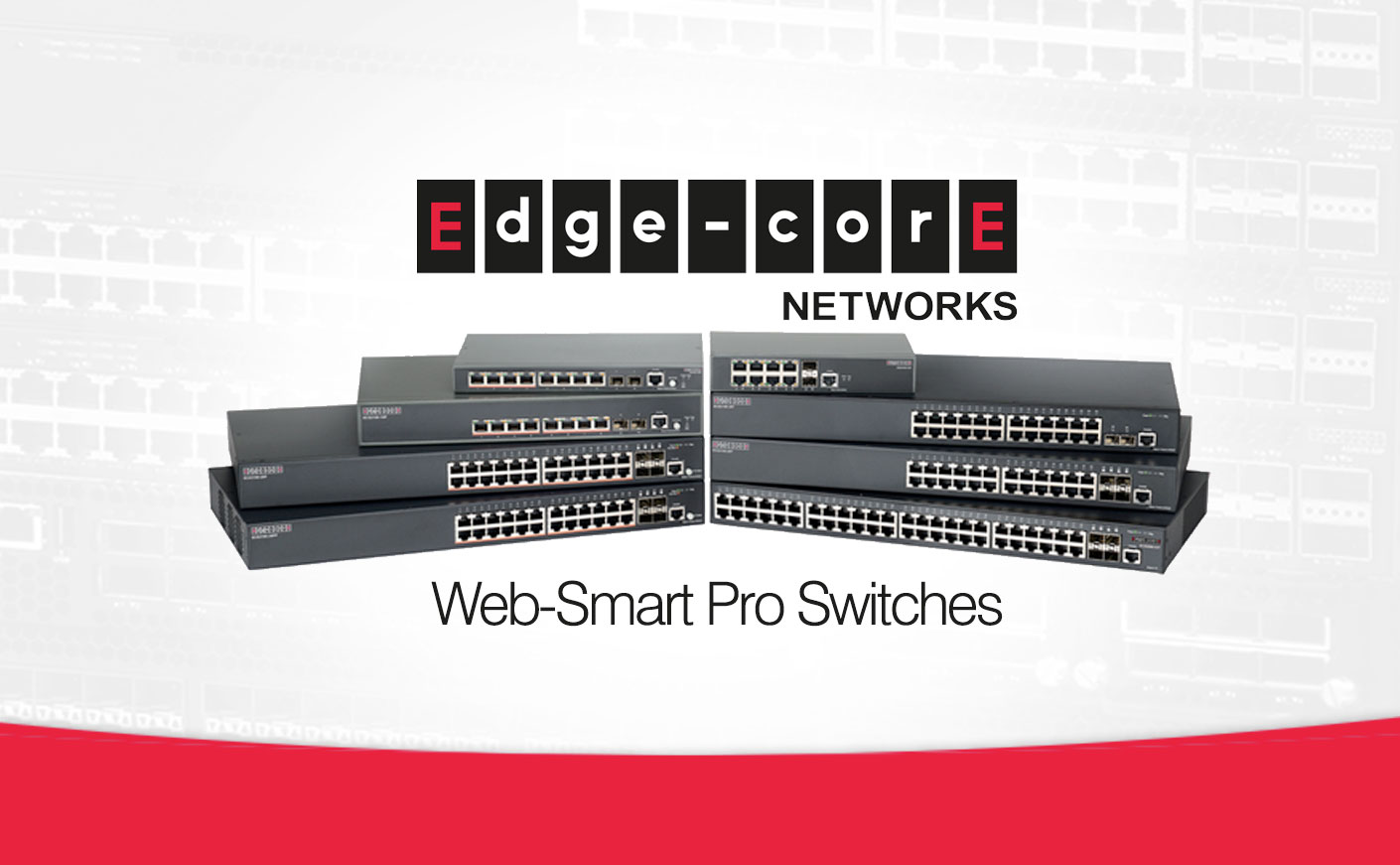 Thursday 28th January 2016
ECS2100 Web-Smart Pro offers Gigabit switching with 10G uplinks, PoE options, Energy Efficient Ethernet, and innovative dashboard management.
Edgecore Networks, a leading provider of traditional and open network solutions for enterprises, data centers and telecommunication service providers, today announced the Web-Smart Pro series of switches that provides a complete network infrastructure for small and medium businesses.
The Web-Smart Pro series of Gigabit Ethernet (GE) switches with Power over Ethernet (PoE) options enables SMB organizations to interconnect its full set of devices— servers, desktops, laptops, tablets, smartphones, VoIP phones, WiFi access points, security devices, cameras, card readers, building control devices, and more— through an integrated wired and wireless network with leading energy efficiency and manageability.
"Edgecore Networks understands that small and medium businesses are facing the same challenges as larger enterprises to integrate the rapidly increasing number and type of wireless, mobile and control devices with their business and network applications," said George Tchaparian, CEO of Edgecore Networks. "Our new series of Web-Smart Pro switches, combined with our WiFi network offerings, allows SMBs to integrate cost effectively their WiFi-enabled devices with their wired network, providing access to cloud-based and premises-based business, security and building control applications."
The Web-Smart Pro product line includes switches ranging from 10 to 52 GE ports, with GE and 10GE uplinks. 802.11az Energy Efficient Ethernet features reduce energy consumption and lower operating costs. The EC2100 product series includes models with PoE to interconnect a wide range of WiFi access points, VoIP phones, security and building control system devices. PoE options deliver 15.4 Watts per port, or 802.11at compliant 30W per port to meet the increasing demand for 802.11ac WiFi access points. The Web-Smart Pro series is managed via an innovative dashboard graphical interface which allows network engineers or SMB office managers to perform the limited configuration and monitoring steps required for the network.
"As one of the most technologically advanced universities in Taiwan, we need to provide reliable wireless access with high bandwidth to our teachers and students throughout the campus," said Mr. Y.Y. Lu, Director of Computer Center of MUST (Minghsin University of Science and Technology) in Taiwan. "The Web-Smart Pro switches from Edgecore Networks have the PoE power budget to support our deployment of the latest Wi-Fi network technology across our campus, using 802.11ac access points from IgniteNet with easy cloud-based management."
"Mayflex is pleased to add the Web-Smart Pro series of switches to our existing extensive product portfolio," said Tracey Calcutt, Marketing Manager at Mayflex. "As a leading provider of Converged IP solutions in the UK, we understand that cost effective and easily managed networks, like those provided by the Edgecore products, are the foundation for a solid infrastructure solution that integrates wired and wireless IT, security and building management systems."
ECS2100 Web-Smart Pro product family includes:
ECS2100-10PE 8-port Gigabit PoE switch with 2 SFP Gigabit uplink ports (65W PoE power, fanless)
ECS2100-10P 8-port Gigabit PoE switch with 2 SFP Gigabit uplink ports (125W PoE power, fanless)
ECS2100-28P 24-port Gigabit PoE switch with 4 SFP Gigabit uplink ports (200W PoE power)
ECS2100-28PP 24-port Gigabit PoE switch with 4 SFP Gigabit uplink ports (370W PoE power), with optional extended power supplier, EPS3000 and EPS460W, the PoE power will be 740W.
ECS2100-10T 8-port Gigabit switch with 2 SFP Gigabit uplink ports (fanless)
ECS2100-28T 24-port Gigabit switch with 4 SFP Gigabit uplink ports (fanless)
ECS2100-52T 48-port Gigabit switch with 4 SFP Gigabit uplink ports
ECS2110-26T 24-port Gigabit switch with 2 SFP+ 10Gigabit uplink ports