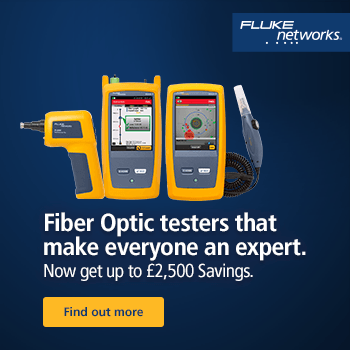 Fibre Optic Testers that make everyone an expert
Do you want to become a fiber optic expert?
Fiber optics cabling is the core of today's datacom networks. Today, the need for higher data transmission capacity continues to grow as network applications grow and expand. As network speeds and bandwidth demands increase, distance, and loss limitations have decreased, making fiber optic cabling certification testing more important than ever.
Fiber is a reliable and cost-effective transmission medium, but due to the need for precise alignment of very small fibers, problems ranging from end-face contamination to link damage can occur. Regardless, narrowing down the source(s) of failure is often a timeconsuming and resource-intensive task. Fluke Networks offers an industry-leading portfolio of innovative fiber optic cable test and certification solutions, that are used worldwide because of their ease-of-use, accuracy, and durability.
Now, you easily can become an expert, with the range of fieldtough fiber optic testers to inspect, clean, verify, certify, and troubleshoot fiber optic cable networks easier, faster, and safer.
Now is a good time to upgrade your old fiber certification tester.
For a limited time, Fluke Networks is offering up to £2500 trade-in discount on an old fiber certification tester.
You can get up to £2,000 trade-in discount on a new OFP2-100-Q INT/T and CFP2-100-Q INT/T, when you return an old fiber certification tester. Alternatively, if you return a copper certification tester including the optical loss testing module, your trade-in discount on our DSX2-5000QI INT/T will be up to £2,500. You can also trade in against versions including Gold Support.
The /T promo models are at a promotional price (list price less trade-in discount), so you will receive your new tester immediately at a discounted price. After that, the only thing left for you to do is return the old testers on time (see the terms & conditions for more information).
Promotion valid until 15th December 2021